There's a world of fun geography and a long history in collecting fruit stickers and fruit wrappers.
In 1878 the World's first plain small orange papers were patented (Ref: The Opium Museum / Dr Dirik)
By the 1920's, some fruit growers wrapped colourful graphic messages around their fruit as a protective covering to limit the spread of fungus and the risk of bruising during transit. Within a few years, hundreds of people started to collect these decorative tissue paper wrappers because they were free and displayed the work of artisans who regularly blended colourful folk art with contemporary imagery.
Between the 1930's and 1960's, producers started to spray wax and fungicides on fruit so removing the need to wrap each fruit individually but increasing the need to wash fruit before eating it.
Whilst over the 1970's and 1980's fewer fruit wrappers appeared in shops, some continued to wrap a few fruit per box in tissue to grab attention in the marketplace and identify the growers. This made fruit wrappers much rarer which probably caused more people to collect them.
Bananas however, have carried stickers on them for an age – well you try wrapping graphic-rich tissue paper around a hand (bunch) of bananas! Gradually the use of fruit stickers spread – initially adopted by citrus fruit growers. You can even find stickers on some vegetables.
By 1985, the Victoria and Albert Museum, London, had a growing collection of fruit wrappers and in October of that year published a selection (Book by Gill Sanders. V&A)
The wide use of fruit stickers soared in 1990 with the issue of the first 'PLU' numbers and stickers started to appear on all fruit/fruit packaging. Suddenly, children started to collect fruit stickers around the World – a free, easy and education-full hobby around a healthy product. The attention of growers, distributors, retails and point-of-sale promoters all focused on the fruit sticker making it information-rich, easier to collect and often depicting popular cartoon characters on special editions.
Each year a new 'crop' of fruit sticker designs is released and a new generation emerges eager to continue a collecting hobby that is free to start and cheap to build – all you need is a love of fruit and a place to stick your stickers.
As we consume greater quantities of fruit (and vegetables) the fruit sticker designers will be kept busy, creating new shapes and graphics. As fruit sales grow so too do the number of fruit sticker collector. However, the future of this low cost hobby is uncertain as growers research ways to tattoo PLU number into fruit skin. The future may be 'Orange' but the orange skin may be graphically blemished … by design.
__________________________________
Fruitstickers and wrappers online
One of the earliest online Flickr pages "orangepaper and fruitsticker group": (international web site) reached 190 members worldwide but hasn't updated for years.
Little People Books (LPB) first published two selections of fruit wrappers from the 1930's Wallis Collection, online in 1999 (UK) at http://uk.geocities.com/fruitwrapper/ and (USA) http://www.geocities.com/fruitwrappers in 2000 but geocities.com closed down.
Kelly Angood,  designer, has a gallery of her greatest fruit stickers online with over 32,000 followers at instagram and there's a "ten little known facts about fruit labels" – one fact says, "they are edible", and another mentions the Amron Experimental stickers which dissolve in water. (See image below)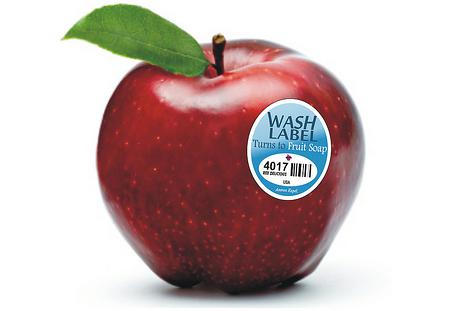 Search:
Fruit Wrappers
Fruit Stickers
Banana Stickers
PLU Numbers
Background publication notes:
Chronicle Books published a selection of fruit wrappers from the collection of Louise Fili (President of U.S. graphic design firm Louise Fili Ltd.) and Steven Heller (senior art director of The New York Times.)
Two catalogues of Banana Stickers have been published. (First Edn. August 1995. Gerri Lorenzo, Tulare, California) and Bananaman exists – he's a great guy and he has published a book about his Bananaman campaign in Africa.
Stay a'peeling